World On Fire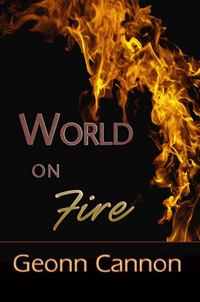 Firefighter Alexandra Crawford's world is about to ignite in more ways than one.
After a particularly bad fire leaves Alex and another member of her team in the hospital, she finds herself entranced by Dr. Rachel Tom. She doesn't plan to fall in love and doesn't need the hassles of a new relationship, but Rachel felt the pull as well. And she's not the kind to let something so good slip through her fingers.
Both women quickly succumb to their desires, but the relationship may be over before it begins. Alex soon realizes that the horrible blazes they've been fighting recently are too uniform to be anything but arson. And if she's right, someone is setting them for the express purpose of killing firefighters.
World On Fire is now available to purchase!
Read the first chapter online from PD Publishing. (Adobe Reader required)
Geonn recommends buying from Star-Crossed Productions, an independent, lesbian-run business.
World On Fire is also available from Amazon.com and Amazon.co.uk.