Gemini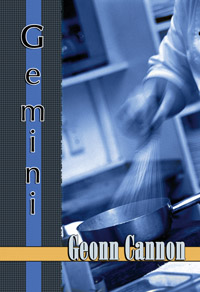 Molly Page is a successful chef in charge of her own kitchen on Squire's Isle. But despite her success, she still feels incomplete. The feeling is magnified when she learns her estranged twin sister has died in a car accident. Suddenly, Molly finds herself utterly alone. The world slips even further off its axis when a mystery woman arrives on the island and reveals that she was her sister's partner.
Forced to see a side of her sister that she always denied existed, Molly is forced to relive painful memories on her way to slowly discovering who she really is.
To whet your appetite for Gemini, here's a sneak peek at a bonus scene. This takes place just before the novel begins, so it can be considered a prologue to the novel.
And if that's not enough, you can read the first chapter online from PD Publishing. (Adobe Reader required)
Gemini is available now from PD Publishing!
Geonn recommends buying from Star-Crossed Productions, an independent, lesbian-run business.
You can also find Gemini on Amazon.com and Amazon.co.uk.